The vacation rental industry has made it extremely simple for ordinary people to list their home on a long or short-term basis. If you've ever searched online for a getaway, you have probably visited VRBO.com or Airbnb.com. These vacation rental sites have become extremely popular and are no longer just considered for the adventurous and risky! We recently sat down with one of our friends and clients, Robin Woodley to talk about how she turned their family vacation home at Lake Eufaula into a vacation rental and started earning money! Take a look at our conversation, below.

P&P: TELL US YOUR STORY! HOW DID YOU MAKE THE TRANSITION FROM LAKE HOME TO VACATION PROPERTY?
ROBIN: My husband's family grew up spending time at the lake, so it was important to pass this along to our family. Once our kids went off to college, we eventually got tired of hauling our camper back and forth to the lake and decided to buy a home at Lake Eufaula!
We made so many wonderful memories in this home, so when our kids went out of state for grad school, we started using our travel time to go see them and slowly stopped being able to use our home at the lake and so it sat empty most of the time. We talked about selling the home, but with such an emotional attachment to the home and property, we decided to get creative!
At that time, our daughter-in-law was putting her apartment on Airbnb.com and was having a great experience! It was really during the early days of Airbnb, so we were kind of right there with them on the leading edge. I decided to give it a try and it's been a great money making venture for us. We have used our earnings to pay bills and even to travel!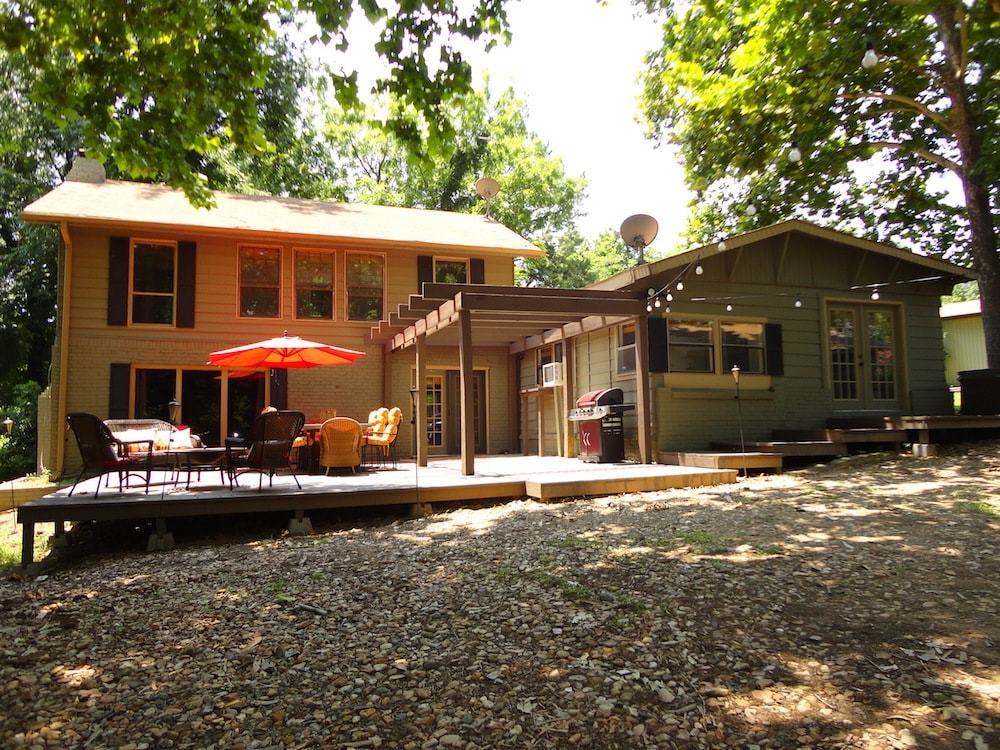 P&P: WHAT IS INVOLVED WITH GETTING YOUR PROPERTY READY TO BE A VACATION RENTAL?
ROBIN: It really depends on how you plan to approach this. For us, we knew we wanted to still use the home for our family, so it remains decorated to our taste even though it's not our primary residence. We also block off weekends that we know we will want to use the home.
As we were getting the home ready, I purchased extra linens, dishes and utensils so that during the busy season, I can quickly change them out and turn the property over when it's booked back to back.
Once the home was ready, it was time to get our listings up and start getting bookings!
P&P: HOW DO YOU DETERMINE THE RIGHT NIGHTLY RATE?
ROBIN: Good question!!! Our rate should probably be higher, but we decided on $300/night for a home that sleeps 10 people and has an incredible beach. Very often we get a group looking to split the fee.
So, for example if you have 5 couples paying $60/night that is very affordable for a nice vacation getaway.
We have decided to limit the number of guests to 10 because we have found that any more than that becomes a party and that's when property gets damaged! We just choose to try to avoid this altogether!

P&P: WHAT DO YOU NEED TO KNOW TO HAVE SUCCESS WITH VACATION RENTAL WEBSITES?
ROBIN: You don't have to be a marketing expert to book reservations for your home, it's very user friendly and as simple as posting photos on Facebook! There is a bit of a learning curve with each of the booking sites and I'd recommend staying on top of guidelines and best practices.
We are currently on Airbnb and VRBO. They send us a notification when someone books so that we can converse. There is also an option for "Instant Booking" where you can skip this step, but we enjoy getting to know who the group is that will be using our home. Both sites offer resources and tips now for teaching you how to get the most bookings. One thing that is important to know is the fees that go to the booking sites can be substantial! You can probably figure close to 20% in addition to credit card fees.
P&P: ANYTHING ELSE WE SHOULD KNOW?
ROBIN: We have noticed that the market is becoming more competitive and it can be tough to get bookings outside of high season. If you're treating this like a real business, there are still things you can do to get creative with marketing and getting more bookings.
And finally, I would just say, don't underestimate the amount of physical labor it takes to get a vacation rental ready over and over again during heavy season. We do all the cleaning ourselves and it is definitely the hardest part, I'd say!
---
Many people are turning to vacation rentals as a source of income with the popularity of these sites. It can be a great way to purchase a lake home and recoup some of the costs! If you'd like to learn more about real estate in Eufaula and its surrounding areas, Porches & Pastures can help!
Want to learn more?
Airbnb offers webinars for hosts – you can find them here.
You can check out Robin's listing here.
---
Read more PORCH TALK posts HERE.