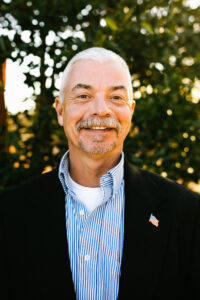 Contact Lew
Lew Forrest
REALTOR®
lew@porchesandpastures.com 916.207.9370
Trading the pastures of Northern California for the plains of Eastern Oklahoma has provided a more peaceful place to continue Lew's hobbies of hunting and fishing, while spending time in nature with his wife and best friend, Marti. After serving 14 years in the Army, he now dedicates time volunteering in the community, often at the Chamber of Commerce, American Legion, Veteran organizations, or the local Food Bank. In his spare time, you might find him obsessing over his latest craftsmanship project as a blacksmith and bladesmith.
When it comes to serving his real estate clients, Lew is all in, working with the utmost integrity. He isn't afraid to roll up his sleeves and do the hard work, always adding a few laughs along the way. His goal is to make the business of buying a house as stress-free and enjoyable as possible. He never loses sight of the big picture that purchasing a home is one of the most significant emotional decisions most people will make.
As a Military Relocation Professional®, Lew especially enjoys helping veterans achieve their real estate goals. His years of living on and tending land give him a wealth of knowledge of septic systems, wells, mold remediation, and the intricacies of rural living. With over 100 transactions in a productive California real estate firm, he's committed to bringing his high level of compassionate customer service to partner with his Oklahoma clients. You won't find anyone more invested in your investment than Lew Forrest.
Contact Lew by email or by phone at 916.207.9370
Designations
REALTOR®
Military Relocation Professional® (MLP®)