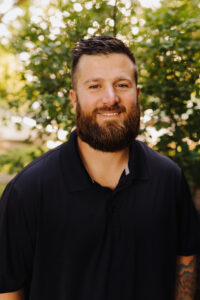 Contact Taylor
Taylor Hawkins
REALTOR®
taylor@porchesandpastures.com 918.555.1212
With a passion for helping others on their real estate journey, Taylor is an ambitious REALTOR® who loves making a difference for the clients he serves. His outgoing personality makes working alongside this motivated professional a positive experience from the first showing to the closing date.
Taylor started his professional career in a unique way after being drafted by the Tampa Bay Rays as a Major League Baseball player. He traveled the world playing ball from 2012 until 2017. He then spent time working as a contractor at Tinker Airforce Base for the E6B program. Each of these endeavors taught Taylor the value of hard work and determination, which he now uses to guide his clients as a trusted real estate agent.
When he's not busy showing homes or negotiating deals, Taylor loves spending time with his wife and two sons. They enjoy exploring new places together and being outdoors boating, swimming, and wakeboarding. He is thrilled to be part of this growing community and looks forward to building new relationships. If you're ready to begin this process with someone who cares, Taylor Hawkins is ready to help you reach your goals with confidence and ease. Call or email today to get started!